Cosmetic Dentistry
Veneers and Crowns:
Porcelain veneers are a great way to enhance the look and feel of your front teeth. Veneers are thin shells of porcelain that are bonded to minimally prepped teeth. Veneers are a conservative and minimally invasive option that leaves most of your natural tooth in tact. Veneers can close spaces between teeth, make crooked or rotated teeth appear straighter, make the surface texture of front teeth smoother and naturally uniform, and enhance the color to a brighter whiter shade for teeth that are severely stained or have damaged enamel. Veneers will improve the look of your smile and can also repair cracks or fractures of the front teeth.
Veneers are a wonderful option for:
Chipped, worn front teeth
Teeth with mottled or misshapen enamel
Crooked or rotated teeth
Closing spaces between teeth
Whitening teeth
Improving the look of your smile
FAQ:
Will veneers look like my normal teeth?
Yes. When dental veneers are fabricated, they are custom-made by our dental laboratory technician to look and feel like natural teeth. Veneers are virtually undetectable and blend in seamlessly to your smile when bonded in. Veneers will resemble healthy, white enamel after their placement.
How durable are veneers?
Veneers are made from a strong type of porcelain. This type of porcelain is crafted by our lab technicians to be extremely durable and highly esthetic. When combined with a strong bonded cement, your veneers will be a long-lasting and resilient addition to your smile.
How long will it take to get veneers?
Getting porcelain veneers will usually take 3 appointments. The first appointment is a consultation. At your consultation, the doctor will take photos and impressions of your teeth and talk to you about what your ideal smile would look like. Together with Dr. Gross or Dr. Kelsey, you will discuss your concerns and your likes and dislikes to achieve your optimal esthetics. At your second appointment, one of the doctors will prepare the veneers or crowns and fabricate custom-made temporary veneers. Once your veneers are hand-crafted by our dental laboratory, they will be bonded to your teeth at your third appointment. You will leave our office with your beautiful new smile!
For a free consultation on how to improve your smile and if porcelain veneers are right for you, call our office today! 440-248-4100
---
Whitening: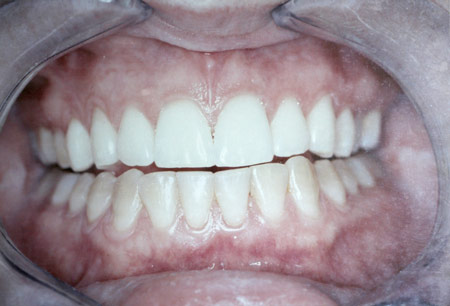 Teeth whitening (bleaching) is by far the easiest way to make a dramatic improvement to your smile. Whitening your teeth is one of the least expensive and least invasive ways to enhance your appearance. Your smile is the first thing others notice about you, and like it or not, it says more about you than any other physical feature. There are several options for whiter teeth that will fit your lifestyle and budget. Allow us to introduce you to the menu of premium whitening products available. Whether you do it "in office", or you choose the "take home" method to do at your leisure, you will have white teeth for a lifetime!
Teeth whitening is a permanent process, however your long term results will depend on what types of foods and drinks you consume and if you are a smoker. Bleaching can be used to correct many types of tooth discolorations, including stains from aging, strong foods and drinks and smoking, or chemical damage to teeth. Touch-ups can always be done in the future to keep you smile looking its brightest! How it works: Dr. Gross or Dr. Kelsey will take impressions of your teeth to make customized whitening trays. You will dispense the take-home gel into the trays and wear them for the allotted amount of time. The whitest shade usually takes 10-14 days to achieve. More in-depth written instructions will be given to you at the time of your appointment. Please do not hesitate to call us with questions about how to get your whitest and brightest smile.
---
Invisalign: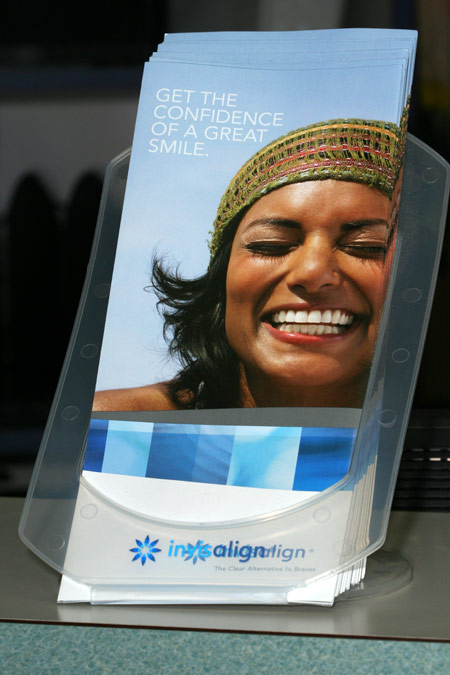 Dr. Kelsey is currently a certified Invisalign provider. Invisalign straightens teeth in a similar way to braces, but without the brackets and wires. Invisalign uses a series of clear, removable aligners to straighten teeth. Over the course of treatment, you will change the clear trays every two weeks until you've worn all the trays in your set. Every two weeks, the teeth move little by little until your beautiful smile is achieved! You will return to our office every 4-6 weeks to check the aligner fit. Unlike traditional orthodontics, the Invisalign trays can be removed for eating and drinking. The removable trays also allow you to brush and floss normally. Because the trays are invisible, they are more esthetically pleasing. To find out more about Invisalign, please give our office a call to see if it's right for you.