The Oral-Systemic Connection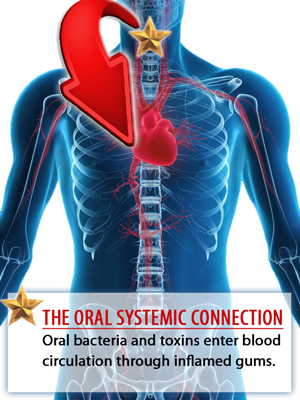 In this day and age, we are all concerned with staying fit, keeping active, and living a healthy lifestyle. Most people think of this as having a salad or going for a run, but being healthy isn't just about what you put in your mouth, it's how you take care of your mouth. The oral-systemic connection describes the link between diseases and infections of the mouth and diseases and infections of the body, and science is proving that this connection is stronger than we initially thought.
Perhaps the most pertinent oral-systemic connection occurs on the gums. Gum disease, know as gingivitis, or more advanced, periodontitis, is the set of inflammatory diseases affecting the tissues that surround and support the teeth. Gum disease is a major contributor to the overall inflammatory burden of the body. Even more alarming, some of the bacteria that cause gum disease are also known components of heart diseases like atherosclerosis. Other diseases with significant connections to oral health and wellness include osteoporosis, stroke, diabetes, and some autoimmune disorders like rheumatoid arthritis.
In order to limit the amount of plaque and bacteria in your mouth, you must brush and floss twice a day. Making your twice a year trip to the dentist can also help reinforce positive changes in your oral health habits. Your dentist can teach you the proper approach to brushing and flossing while helping you recognize and combat oral disease and infection. In addition to going out for that bikeride or jog, use floss as part of your daily routine. Your gum health is a direct reflection of how well you are brushing and flossing at home! Use your toothbrush often and correctly, and make oral health part of your everyday healthy lifestyle.
This article was written by Dr. Kelsey H. Gross, DDS. She works in Solon with her father, Dr. Richard J. Gross, DDS at 34501 Aurora Rd, Suite 303, phone: 440-248-4100.